Grand Canyon National Park - Summer 2009
Overview - As our last stop, in our home state of Arizona, we really enjoyed the Grand Canyon. We were in the best shape of our lives and feel fortunate that we could enjoy the Grand Canyon to the fullest. There really aren't enough superaltives to describe how awesome the Grand Canyon actually is. Hopefully the pictures will give you an idea.
Details - The Grand Canyon is a tricky beast. Depending on what you would like to see in the park, you can do the park in 2 hours or take 3 days, it really is what you make of it. North or South Rim is again up to you, although the North is much less crowded from what I have heard.
We drove down from Zion and camped at Mather Campground, as we were getting there quite late in the afternoon and Mather is the largest campground with over 300 sites, we figured it would be our best bet. We were fortunate to get a spot as they were giving the last couple away as we drove in to set up camp. Mather is a no frills campground and is rather over crowded. While perfect for our short stay, I would not want to use it for an extended stay. I would look at some of the other smaller campgrounds.
Hiking
DISCLAIMER - JUST IN CASE YOU MISSED THE PRIMARY DISCLAIMER, THE HIKE I AM ABOUT TO DESCRIBE IS !!!!EXTREMELY!!!!! DANGEROUS
DO NOT ATTEMPT TO GO DOWN AND UP IN ONE DAY AS WE DID
THE PARK SERVICE DOES NOT ENDORSE IT
I DO NOT ENDORSE IT
PEOPLE DIE, EVERY, SINGLE, YEAR DUE TO THE EXTREME HEAT, DISTANCE, AND PHYSICAL CHALLENGE
I TAKE ZERO RESPONSIBILITY FOR YOUR ACTIONS AT THE GRAND CANYON NATIONAL PARK
With that out of the way, we decided to go down and up the canyon in one day.
The only reasons we thought it was safe for us to do this were:
We understand how much we need to drink in the desert, we both grew up and hiked in Phoenix all our lives.
We had been hiking 25 mile hikes for the past month at high altitudes.
We started early to avoid the heat. We got up at 2 am, started hiking at 3 am, were at the bottom by 5:30am, and were hiking up by 6am. We were done before 9:30 am, avoiding most of the brutal heat that the day brought.
We carried 7 liters of water per person, and refilled at the water stations (check if open before you hike) on the way up.
To elaborate on the hike, we started at the South Kaibab Trail Head (aprrox. 9 miles down to Bright Angel Campground with water refill) which you will have to walk about a 1/2 mile to from the main road, as the parking lot at South Kaibab is only open to shuttle buses and local traffic. Ask the rangers where the lot is before your hike, as it is easy to miss. We chose to go down the South Kaibab because it is a more lightly trafficked path and you can go down much faster than on the Bright Angel Trail. When we started hiking at 3am, and throughout the hike down, we were the only ones on the trail. This is where your headlights and flashlights come in handy. We had the guide of a full moon on a cloudless night and it was still dark in the canyon, so be prepared. Also, there are no water refills on this trail until you hit Bright Angel Campground at the bottom. If you mirror our schedule, when you get to Bright Angel Campground at around 5:30-6:30am, you will see people starting to hike up from Phantom Ranch, which is another half mile down the trail.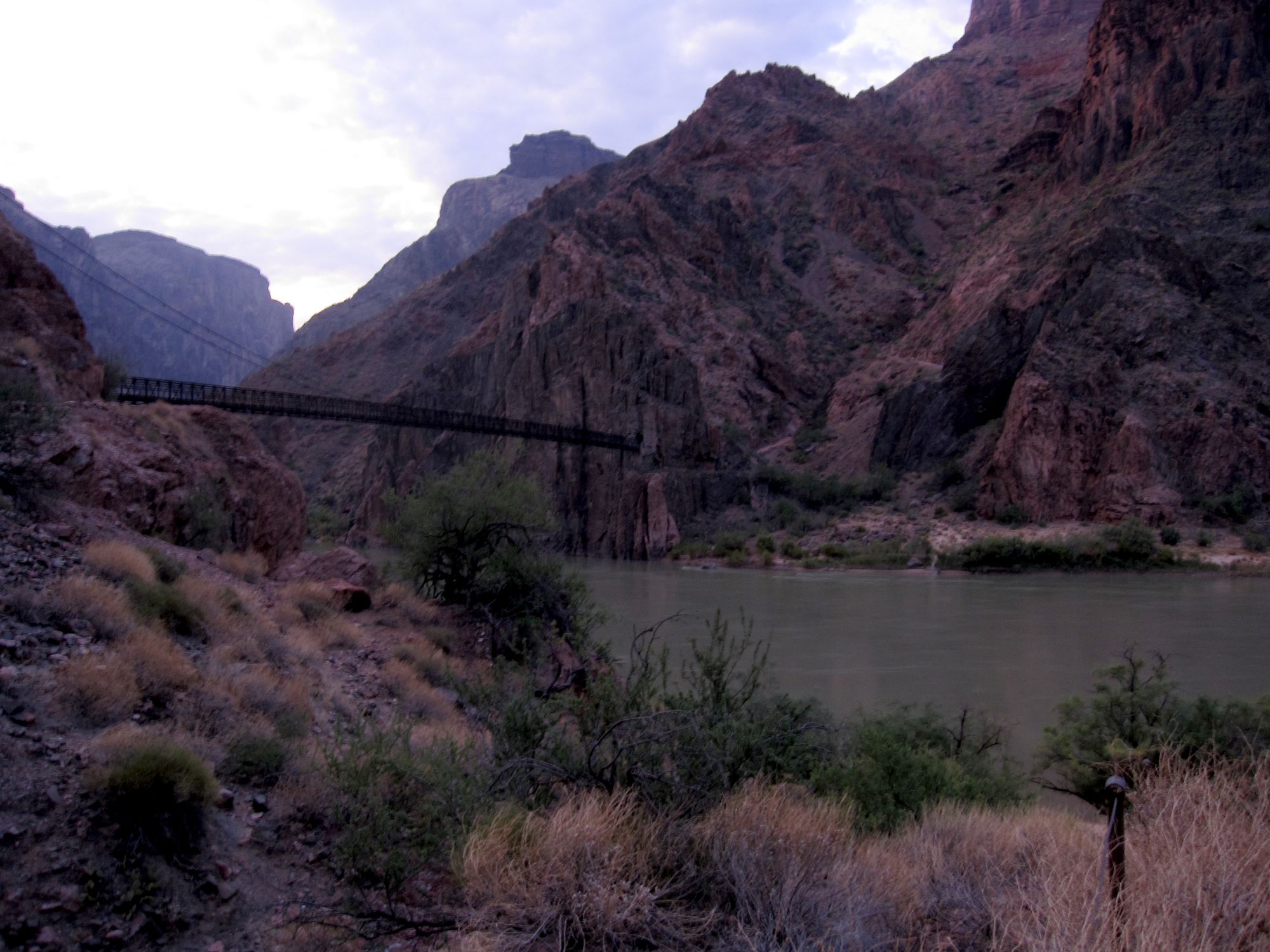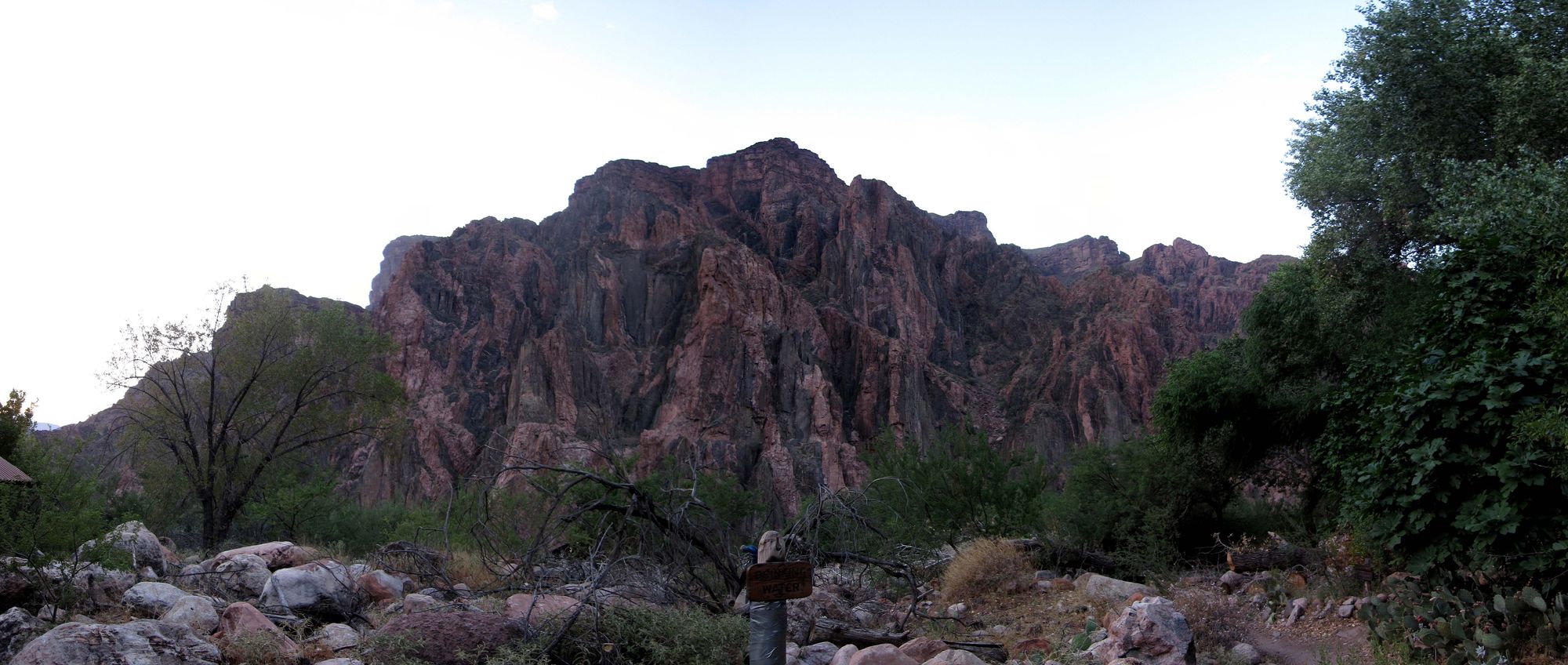 After taking a 30 minute break at Bright Angel Campground (there are bathrooms and a water station here) to eat some of our specialty Power Bars for breakfast and refill our water, we started our ascent up the Bright Angel Trail. This trail is heavily trafficked, even in the morning, and you will undoubtedly encounter multiple donkey trains on the way up. While we made a game out of passing people on the way up, and as such we got out of the crowd rather quickly, you may stay with a group of hikers all the way to the top. Not a big deal, but expect quite a few people. Again, our pace for this trail was the most ridiculous we hiked on the entire trip. We had been hiking above 9,000 feet most of the time, so to come down 7,000 at the top of the canyon, and 3,000 at the bottom, gave us a lot more oxygen to hike with.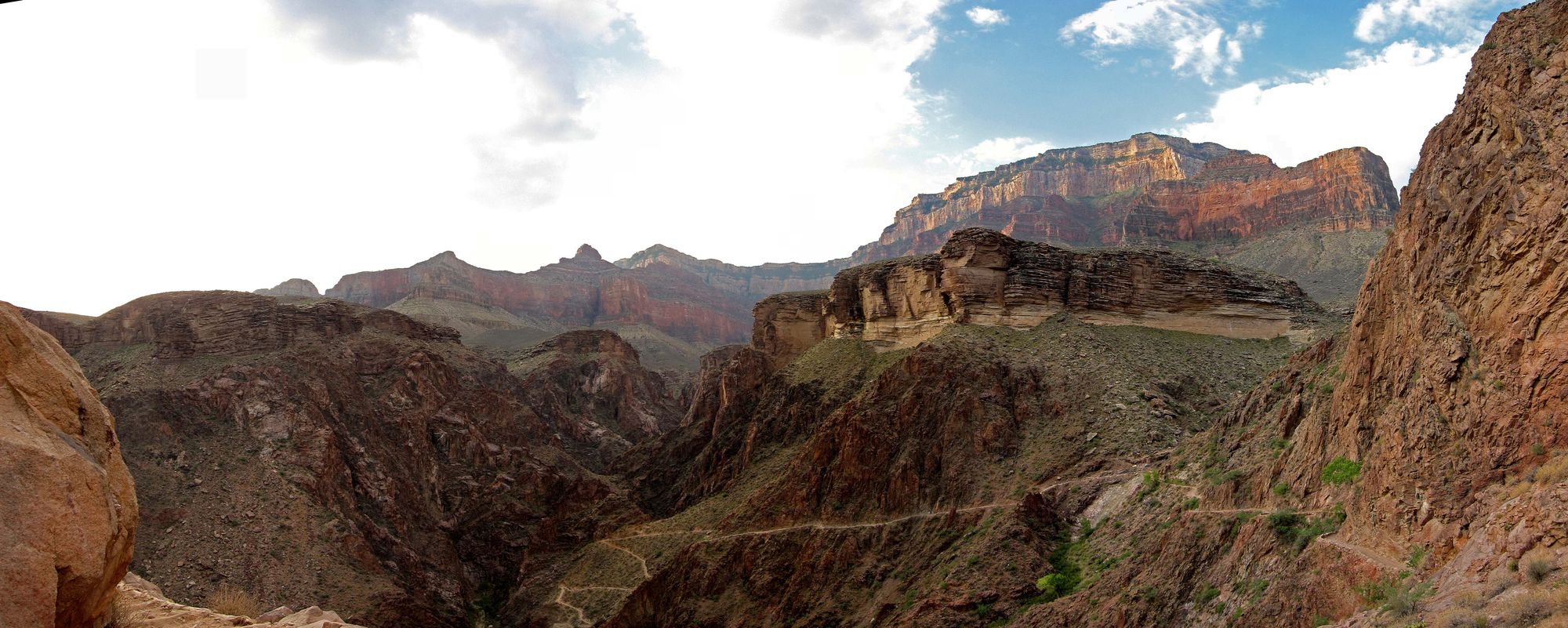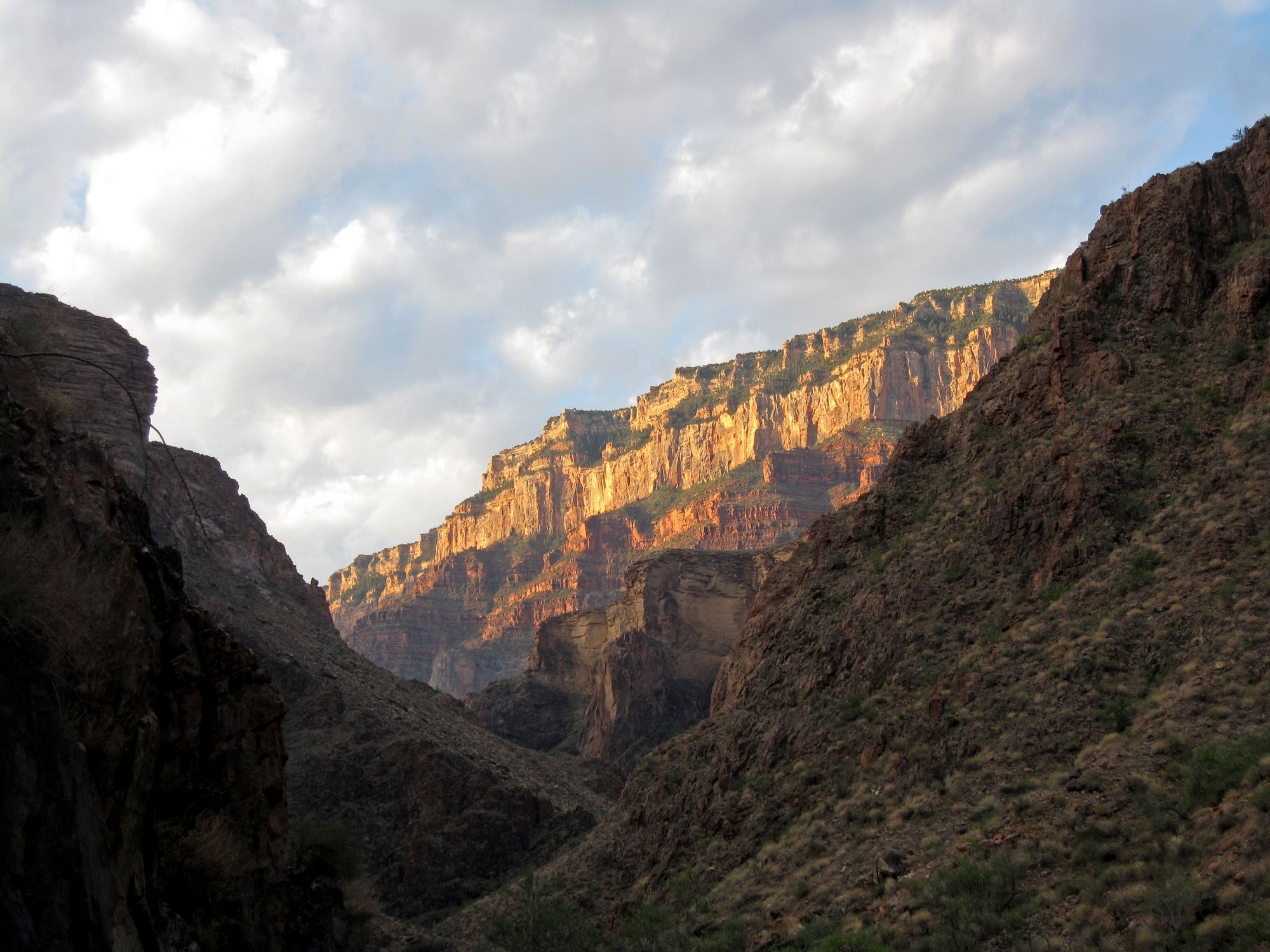 Anyway, we hiked our way up the Bright Angel Trail (another 9 miles up for a total of 18), stopping at Indian Gardens and various watering stations along the way to refill our water, in 3 hours and 30 minutes. This gave us a total time, including about an hour of breaks, of 6 hours and 30 minutes. To give you an idea of the pace, we were going approximately 4 miles per hour for the time we were hiking, which is fast for a hike. Again, this was our last hike, so we were probably over prepared. But nevertheless, the view from the top was just as sweet.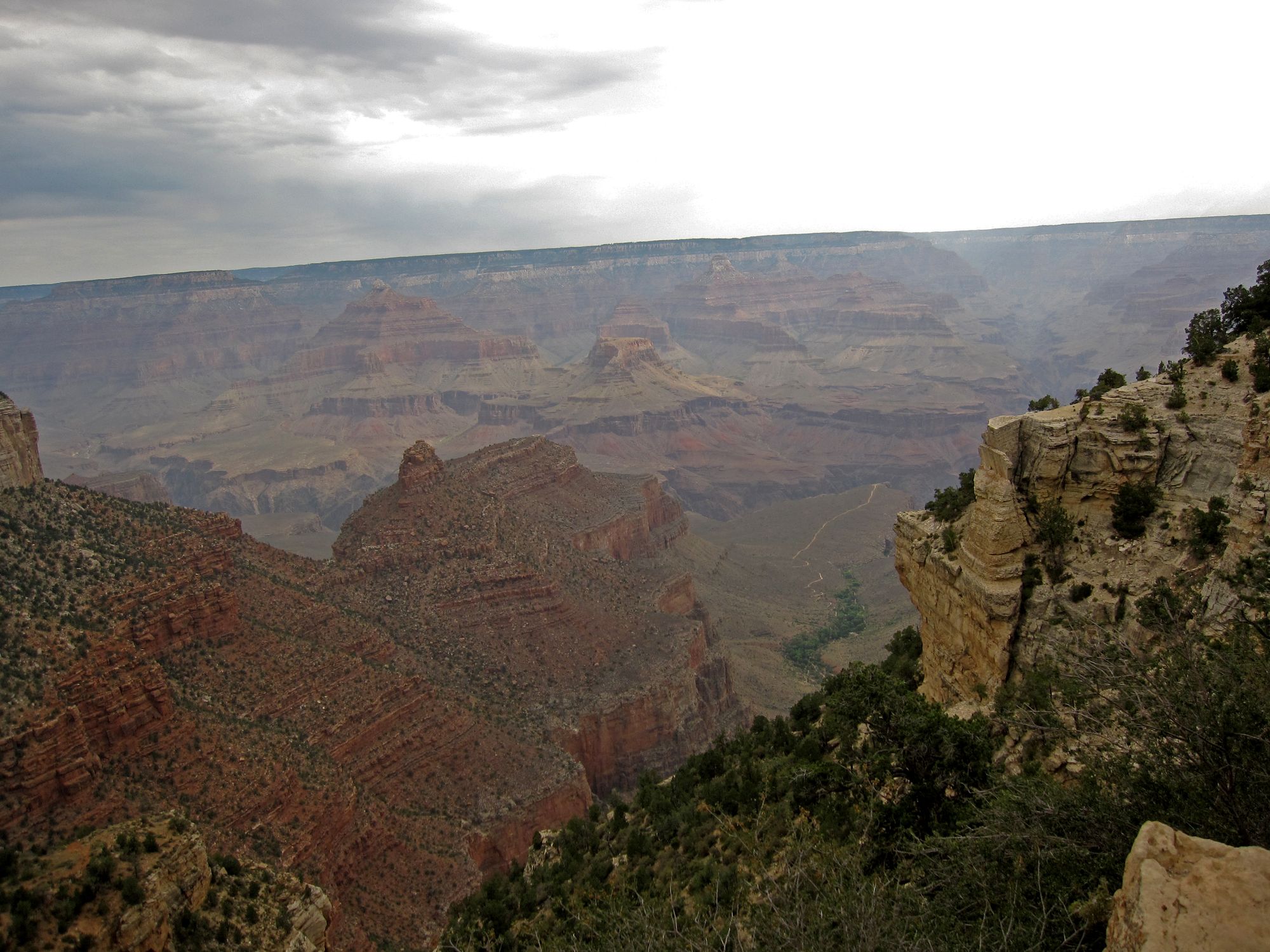 After we were finished hiking, we picked up the Grand Canyon Shuttle to take us back to the South Kaibab Trail Head. However, it won't stop at the parking lot where you need to get off, but if you politely ask the bus driver, they will most likely let you off there. But you do have to ask. That half mile back to your car would be a killer otherwise. After you get back to your car, pat yourself on the back, because you just hiked the Grand Canyon in one day and survived. Well done.
Final Words on Grand Canyon
Overall Verdict - Awesome. For us, it was great coming back home and nailing the Grand Canyon as our last hike.
Days/Nights to Camp/Spend Here – 1-2 nights depending on how you do it, and whether you hike up and down the Canyon or not.
Camping Evaluation - Mather Campground was perfect for what we were looking for, but if you can get a site a smaller campground, that would probably best. It would hopefully be less crowded and the sites farther apart.
Best Time To See The Grand Canyon - Again, earlyl morning is best, as most people don't get up or get to the park until 9am. Anytime before that and you should be in great shape. If you are hiking the entire thing, then you will be up early anyway.
Tips/Tricks - There are water stations on the Bright Angel Trail, so take that trail going up. Go early, you absolutely cannot do this hike later in the day.
Best Hikes - Down and up for us, as it was the only one we did.