Sequoia National Park - Summer 2009
Overview - Sequoia National Park, located on the east side of mid-California, was the first stop on our national park road trip throughout the western United States. We made the 12 hour drive from Phoenix to Sequoia NP in one day and were glad we did. We arrived around 6pm just in time to see the sunset throughout the Giant Sequoia Forest, the highlight of Sequoia NP. This park has a unique sense of peacefulness that we didn't really find at any other park, and for that, it is worth your time (the giant Sequoias are pretty good too!).

Details - As I said, we arrived in the park at around 6pm and our last hope for finding an unreserved campsite lay at Dorst Creek Campground. As we pulled in to the campground, we saw the campground full sign, but we figured we might as well as anyway, as a yes here could save us 2 hours driving to the next one. Lucky for us, someone had just pulled out and opened up a spot, which we snapped up right away to stay for 3 nights. As far as campgrounds go, Dorst Creek Campground was the standard campground, but surrounded by beautiful sequoia trees and deer that would walk right through your campsite. There is also a short little trail (1/4 mile each way) that will take you up to an overlook of the valley right behind the campground. This is worth checking out at sunset and also at night to see the stars. After watching the sunset at around 6pm, we went to sleep so we could get up early the next day.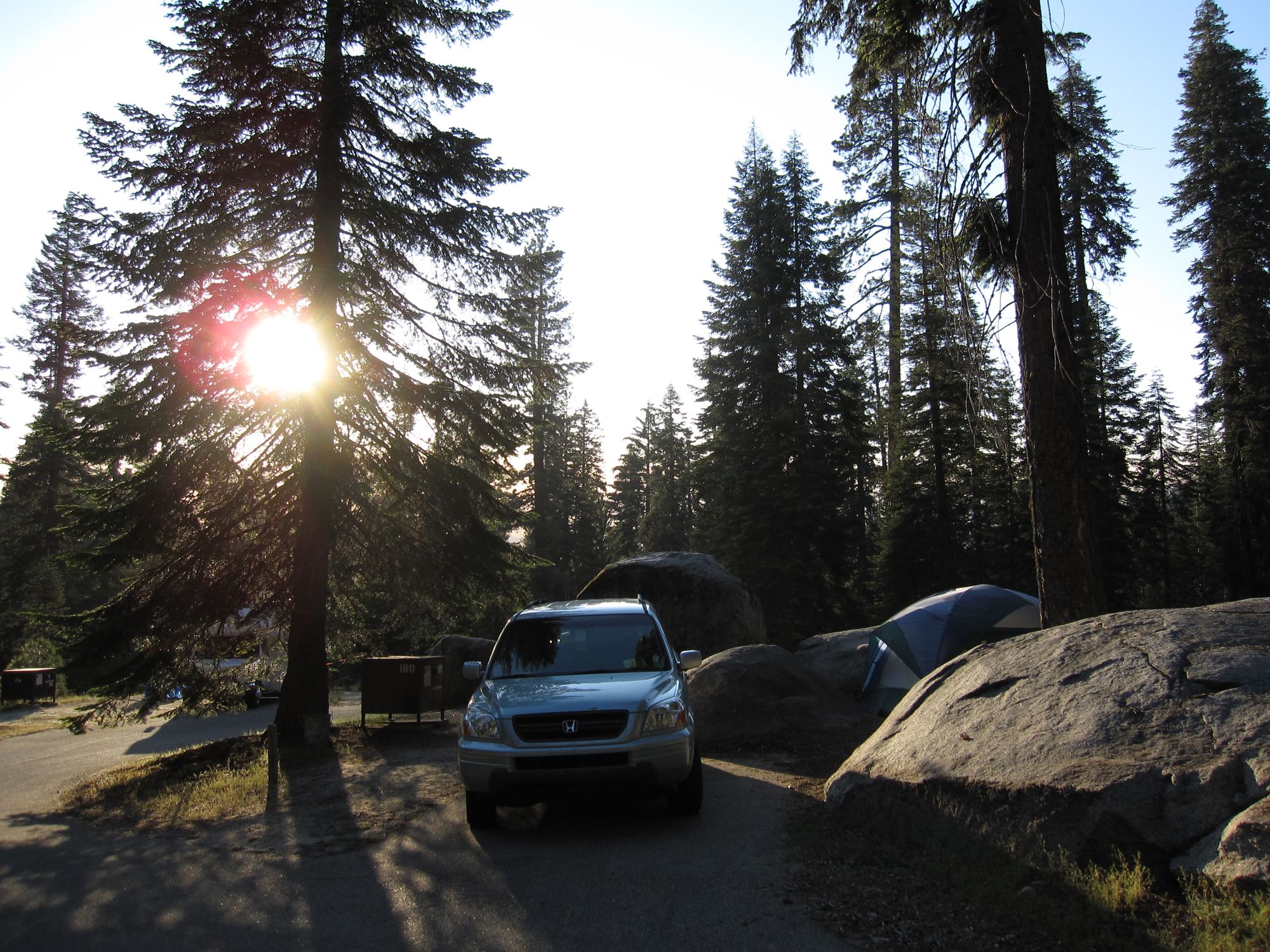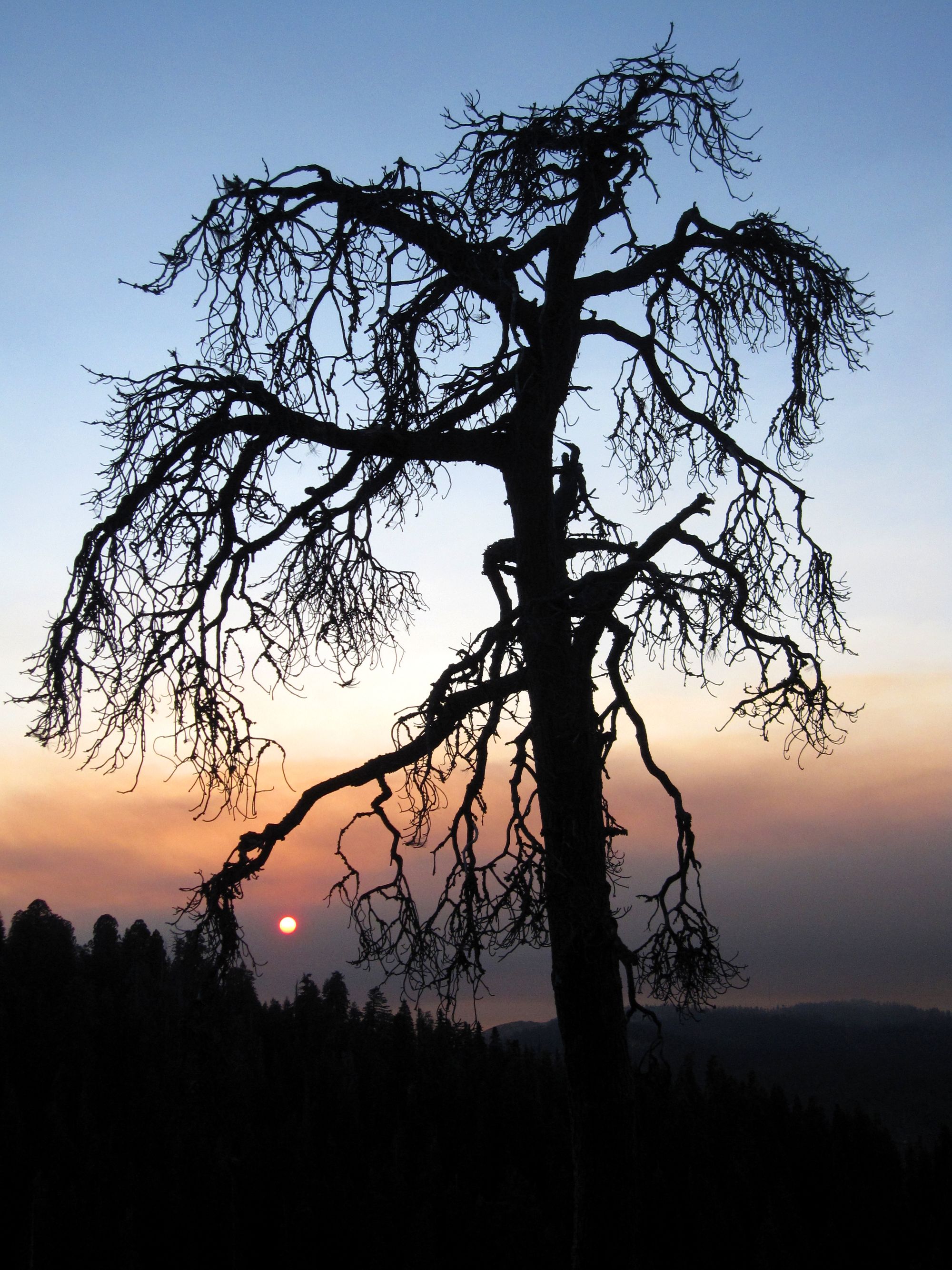 The next day was our first full day in Sequoia National Park and we wanted to start our trip off right, so what do we do? The hardest hike in the park of course: Alta Peak (16 miles RT, very strenuous). We started off early and were on the trail hiking by 7am. This turned out to be the ideal time to see the wildlife in the park. We saw one black bear on the drive to the trail, and then two more bears that crossed the trail just ahead of us about an hour later on the hike itself. You can see them in the picture below as they fortunately ambled away from the trail.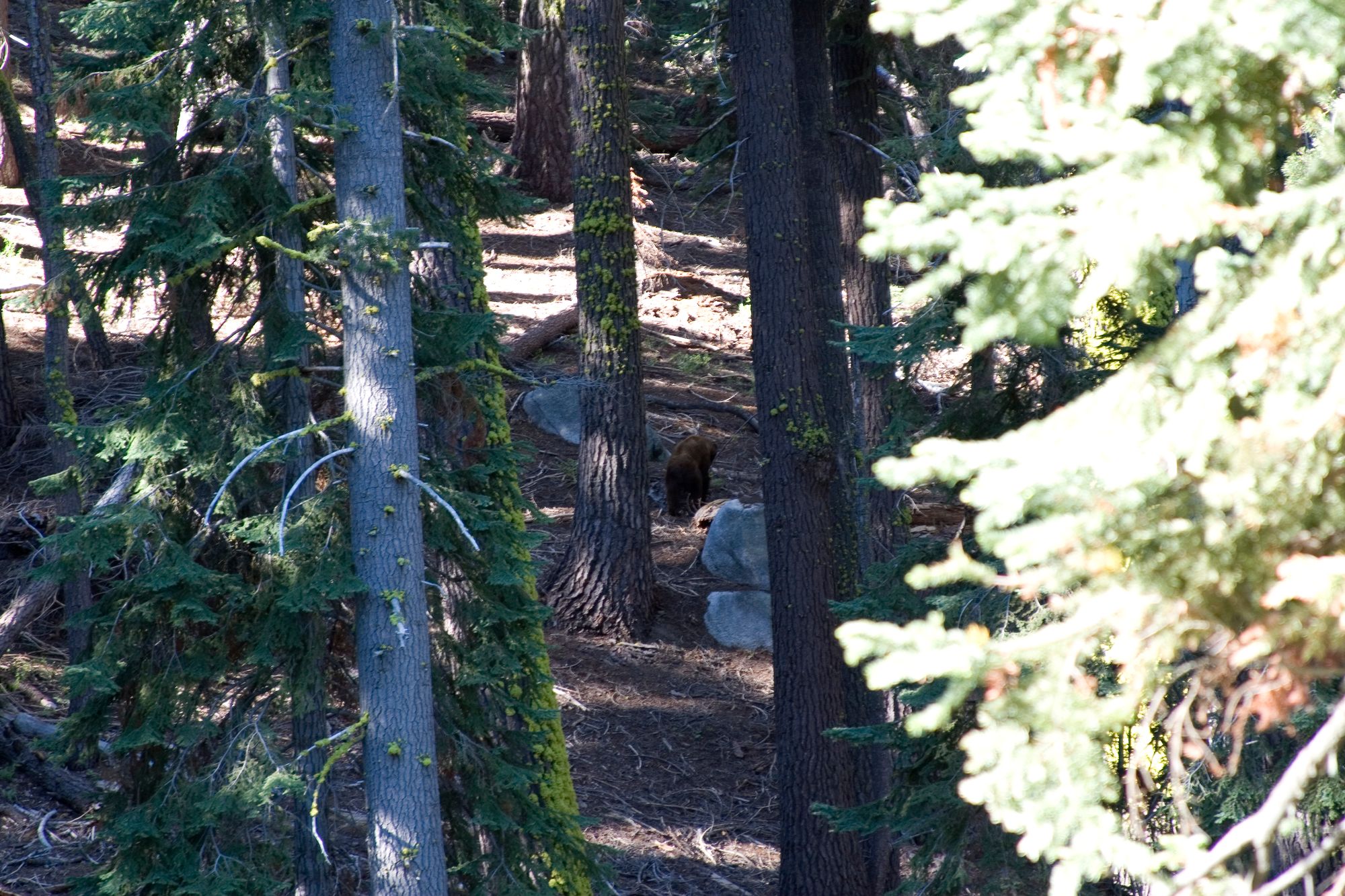 We also saw a great deal of deer on this trail, in addition to numerous marmots, some of which will follow you for food, but please refrain from indulging them.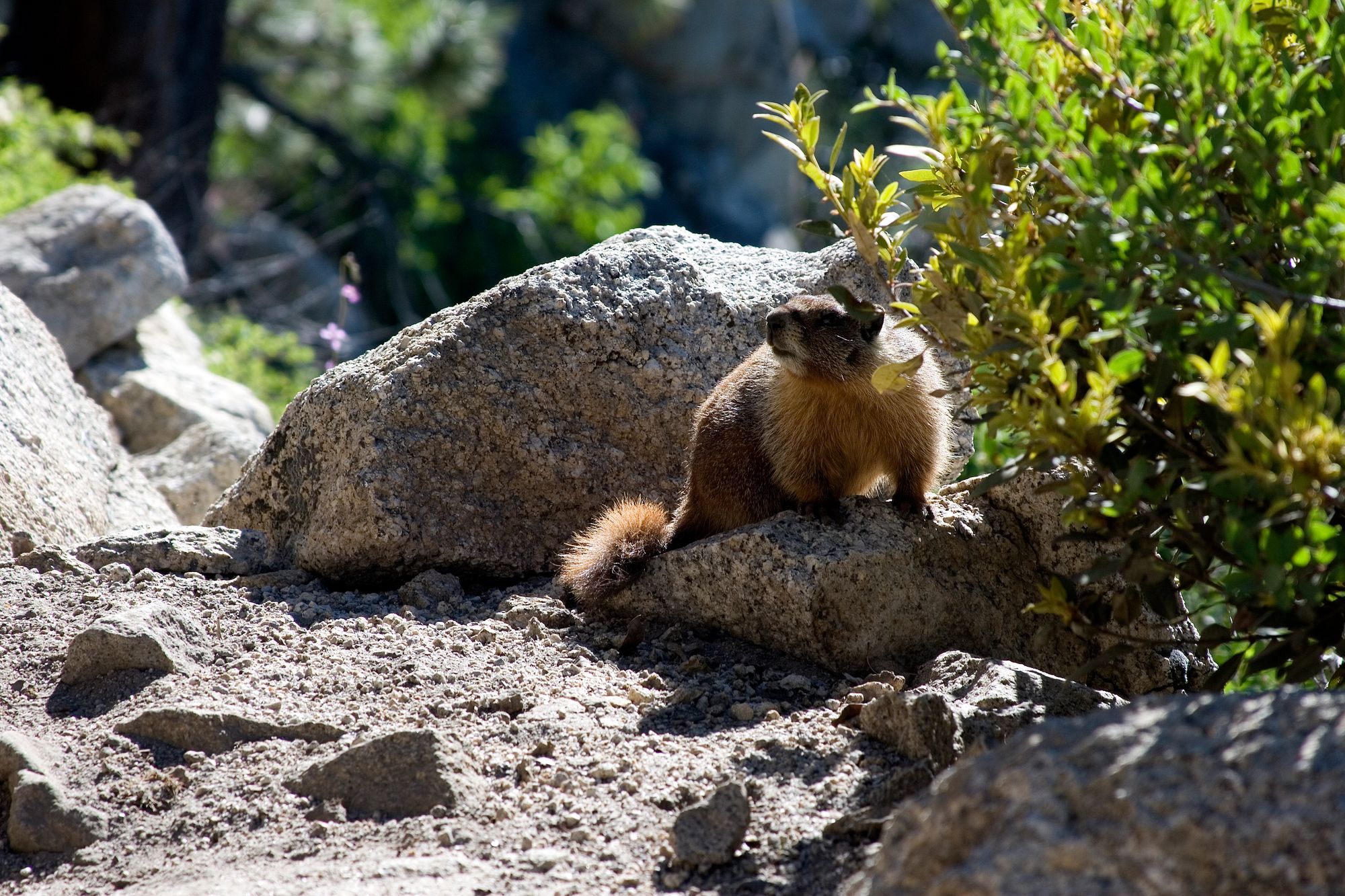 About halfway up the Alta Peak Trail, you will get to a sort of overlook of the mountain ranges in the background. This is a fantastic place to take in the view and take a break, because after this point it is a steady climb to the top of Alta Peak.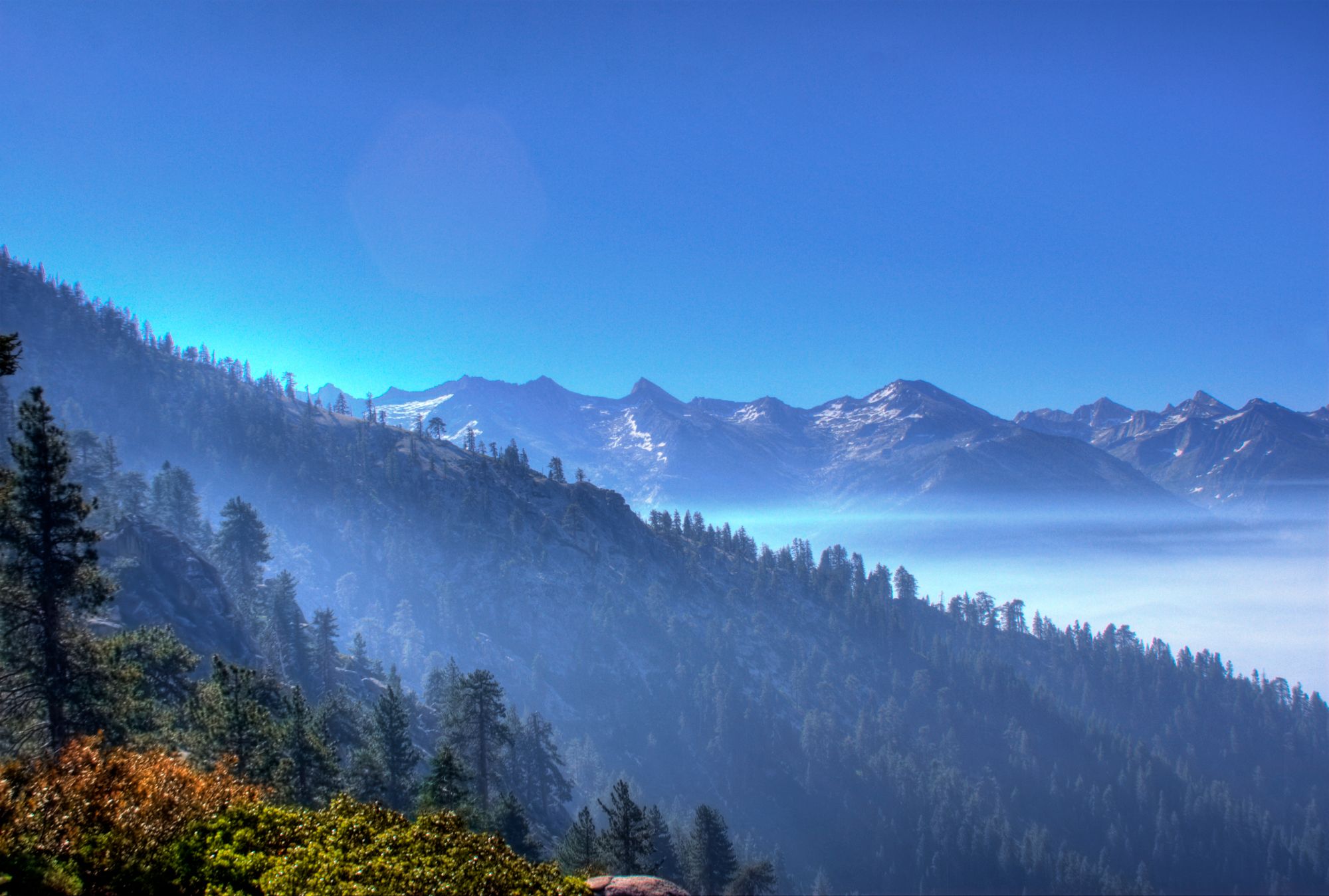 The climb to the top of Alta Peak was probably one of the most deceptive climbs we had on the entire trip. It appears that you are almost at the top on multiple occasions, only to come to the top of that part of the trail and realize you have more to go. The altitude also starts to kick in here as well, especially for us. We had just driven in from Phoenix which lies at 1,117 feet above sea level and to try and immediately hike at 10,000 feet was quite a challenge for us. We probably should have been more careful with the altitude, but we took it slow, and eventually got our gasping selves to the top. Fortunately, all of that hard work is worth it. Be sure to click on the images below to see a larger version.


Once at the top, after you finish getting your breath, be sure to take a good hour to eat something and take in the views. They are truly spectacular. But while you are enjoying the views, don't feet the marmots which will beg endlessly for food. It is obvious that they have been fed before so they stay right up there near the top of the trail. Don't perpetuate this trend, as they get really annoying after a while.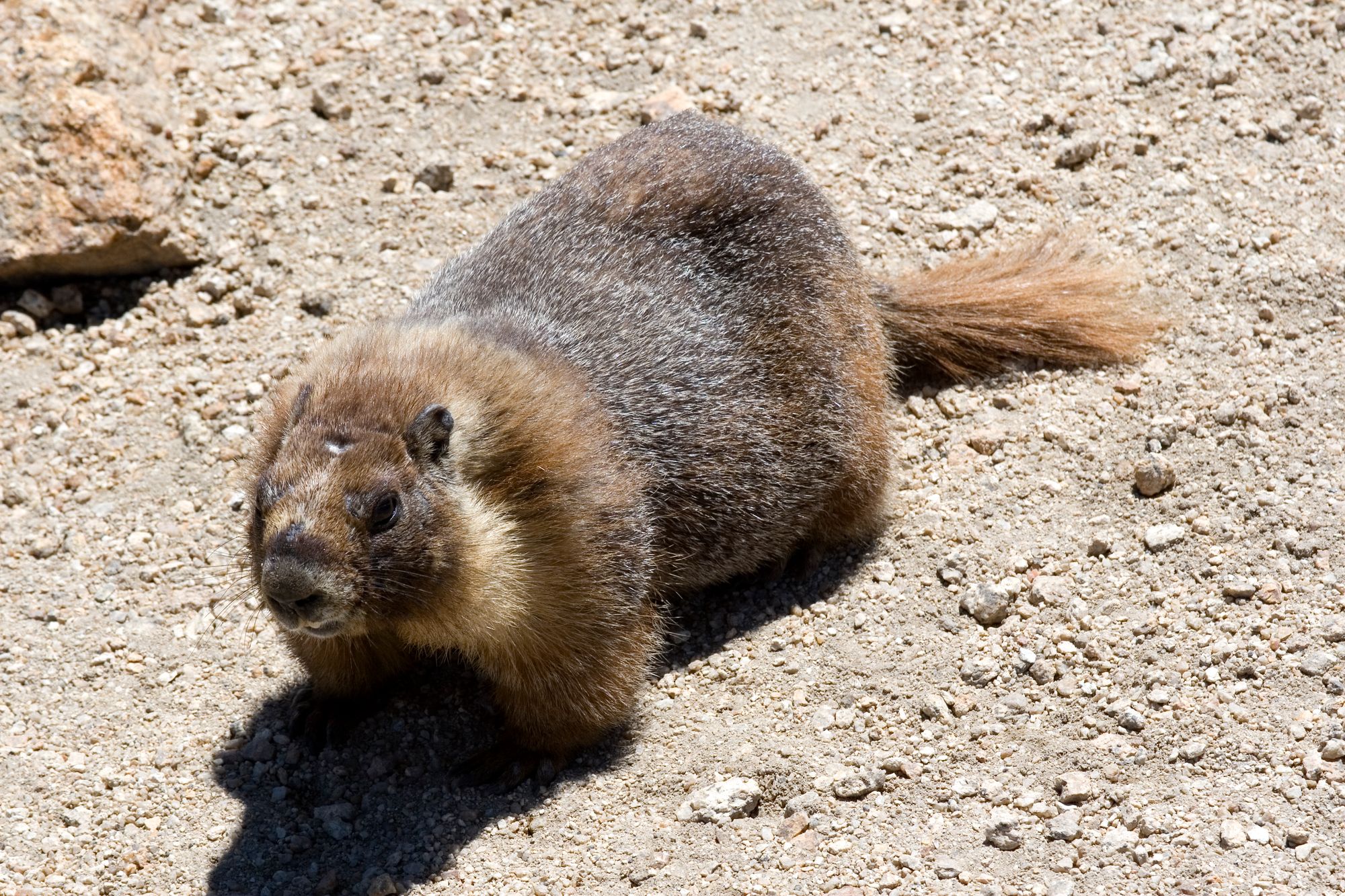 After spending a good amount of time at the top, we hiked down the mountain and drove to one of the visitor centers where they have an all-you-can-eat-bbq, which while it wasn't the best I have ever had, it was dam good after hiking 16 miles. BBQ was also great because it gave us so many calories. After that we went to sleep early once again to wake up early the next day, as there were still quite a few hikes we wanted to go on in the park. That is another great thing about Sequoia National Park, you will not run out of hikes. There are a ton, quite a few of which we didn't even get to. Even at our pace of finishing these hikes, we could easily spend 4-5 full days here.
The next day we woke up 6am and started our day by hiking through the Giant Forest and staring up at Sherman's tree, the largest tree, we learned, not by height or width, but by volume and weight. Try explaining that to your kids. Anyway, we were in that area of the park until 8am just looking around and we were the only people there. So if you go early, you will have the place to yourself.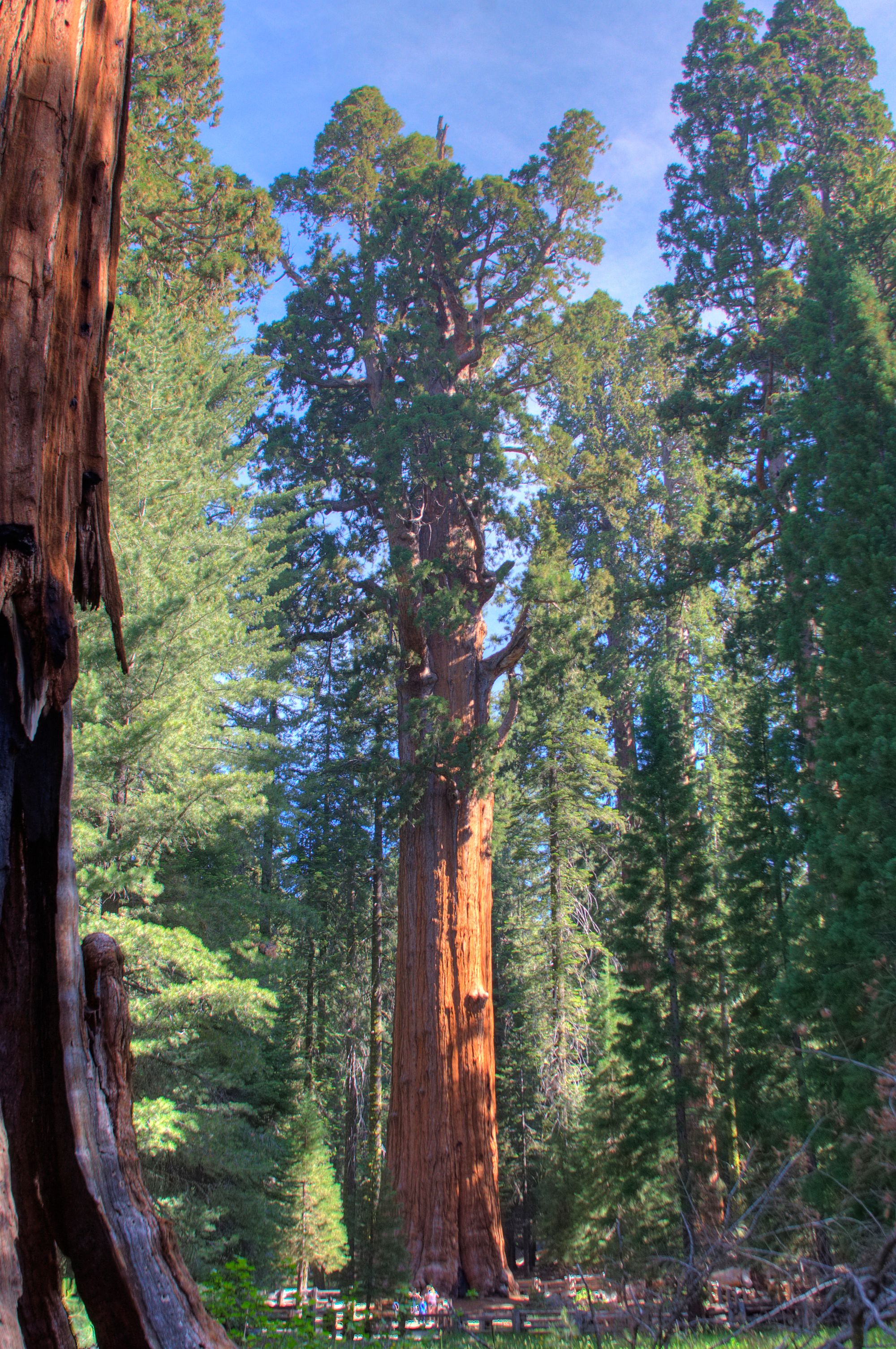 Another benefit of hiking through this area of the park early is that you will see a ton of deer right on the trail. This one was about 5 feet away. Pretty stunning.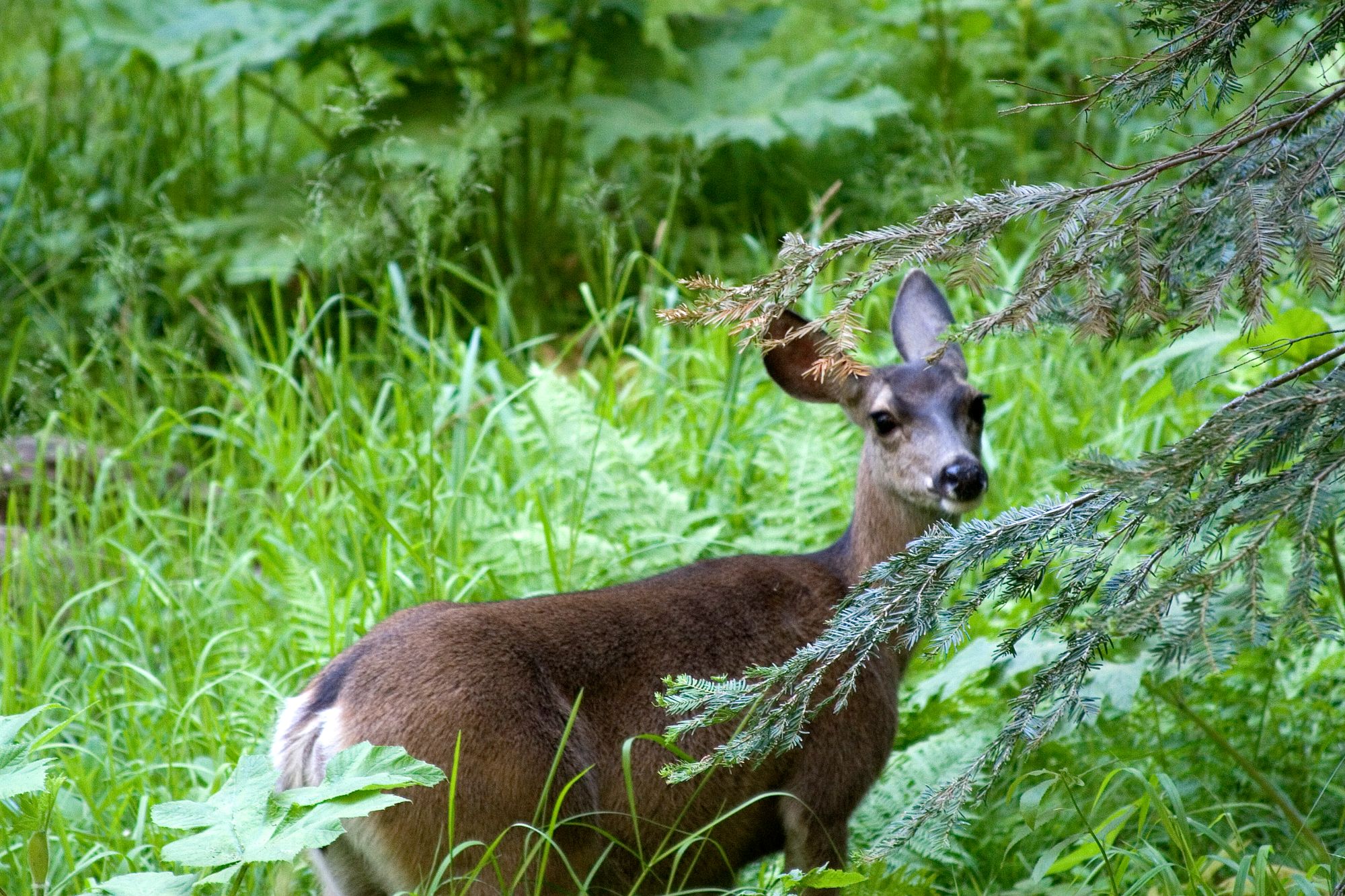 After meandering through the Giant Forest, we decided to try and take the Sequoia Trail down to Moro Rock and then make a loop back to our car at the Giant Forest Visitor Center. This is the only time that we got truly lost in a national park and it really wasn't our fault (I swear I'm innocent). After exiting the Giant Forest and following the signs to the Sequoia Trail, the signs for the Sequoia Trail disappeared in an extremely thick section of brush. So we made our best guess using the Park Maps app on my iPhone and a compass, and headed down what we though was the Sequoia Trail. What we ended up on was not the Sequoia Trail at all, and was not marked on either of the park maps we had, however, it was heading in the right direction so we figured we had plenty of daylight and that we would give it a shot (pretty stupid in retrospect). The trail (and it was definitely a trail) took us all the way up to the lookout point halfway up the Alta Peak Trail.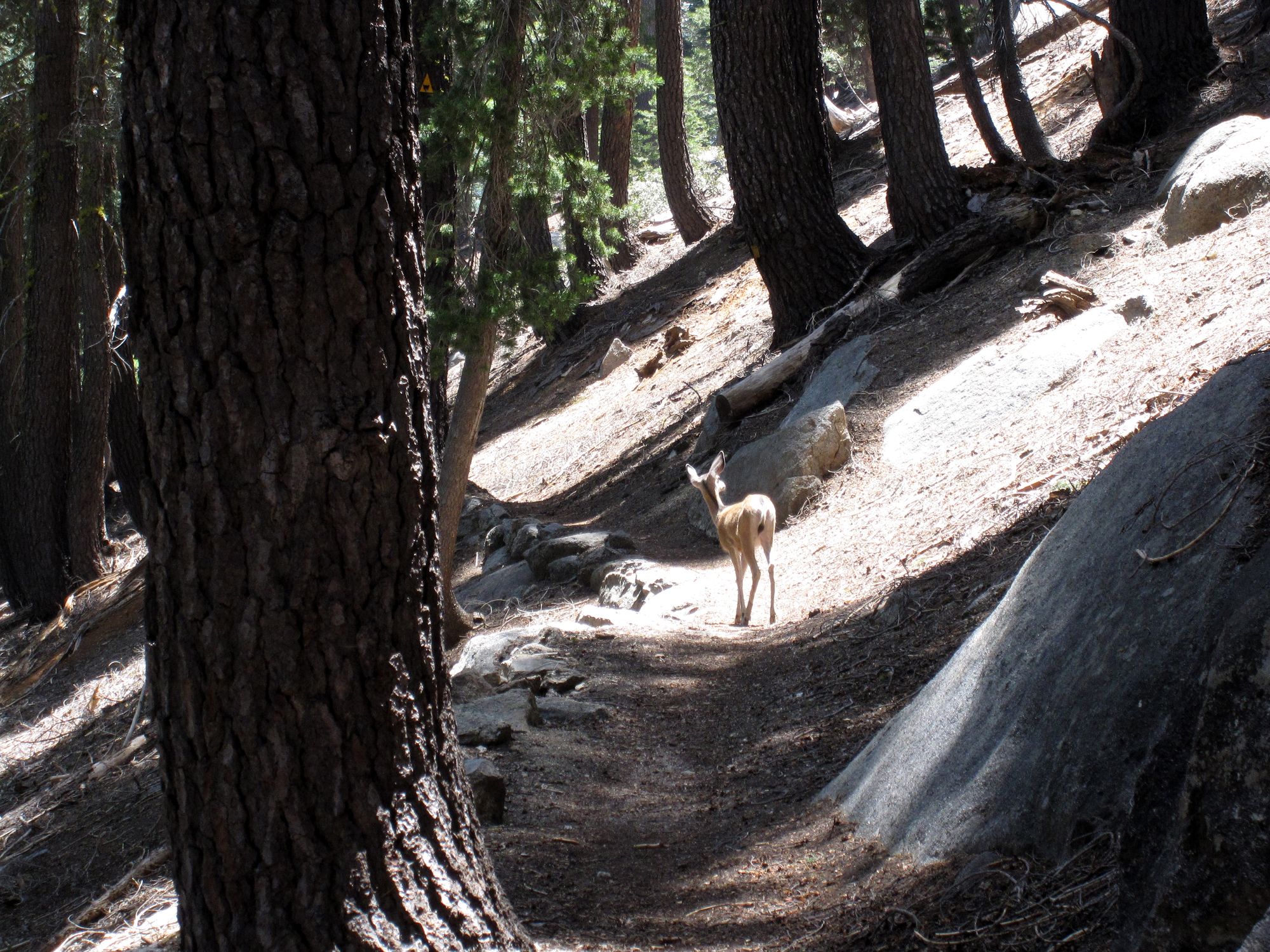 While this was not the end result we wanted, it was not a total disaster, and we still had plenty of daylight left (it was 12pm at the time, and its light until 8:30pm in mid-July), so we decided to take the High Sierra Trail all the way around down to Moro Rock and back up to the Giant Forest.
This was the only hike where we almost ran into a great deal of trouble, as near the end of it, we both ran out of water. We ended up hiking about 3 miles in the afternoon with no water. We both knew we were dehydrated and knew we had a very small margin of error that was rapidly decreasing as the trail/hike dragged on. Fortunately, we finally got to the Crescent Meadow/Moro Rock area and were graciously given a couple of water bottles, as there was not water refill there. We had both brought 3.5 liters of water for the day, as we didn't think we would be going on that long of a hike. We had originally thought we were going to hike about 10 miles, but we ended up hiking closer to 20.5 after we decided to be insane and walk the last mile and a half back to the car instead of swallowing our pride and taking the shuttle. This taught us to not only bring more water (we both carried around 7 liters each in general after this) but to be careful of which trails we go on (basically, stay on the marked trails idiot). We fortunately got away with it, and possibly due to our Arizona heritage, our dehydration did not get us in serious trouble. Ironically enough, the High Sierra Trail actually turned out to be a beautiful hike, and we heartily recommend it, especially if you have water.
Final Words on Sequoia National Park
Overall Verdict - The most peaceful and serene park on our national park tour. The hikes through the Giant Forest were amazing, especially in the morning light.
Days/Nights to Camp/Spend Here – We spent 3 nights and two full hiking days here. While we did quite a bit, we could have spend another full day here, and if your hiking pace is a little slower, 4 days/5 nights is definitely worthwhile.
Camping Evaluation - Dorst Creek Campground was perfect. It was quiet, comfortable, and surround by sequoia trees. Standard as far as amenities go.
Best Time To See Sequoia National Park - Early morning, as the light is the best and there are no other tourists to disturb the peaceful surroundings.
Tips/Tricks - Stay on really well marked trails. It will save you time and possibly from dehydration. Also, bring lots of water, as the park is quite high and sunny in most areas.
Best Hikes - Alta Peak, High Sierra Trail, Giant Forest. Bonus -- Moro Rock is supposed to be a very cool hike, which we didn't get a chance to do, so check that out if you have time.